Gift Cards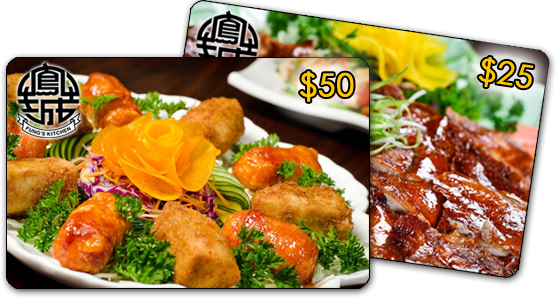 While some devoted Fung's Kitchen aficionados have actually wrapped up our dim sum as a gift to friends, there is an easier way – a Fung's Kitchen Gift Card. Show your favorite people how much you care by treating them to a Authentic Cantonese Style meal fit for Royalty. Our gift cards are a great way to celebrate any special occasion:
Birthdays
Valentine's Day – February 14, 2012
Easter – April 8, 2012
Administrative Professionals Day – April 25, 2012
Mother's Day – May 13, 2012
Father's Day – June 17, 2012
Graduations
Chinese New Years
Winter Holidays
Just Because
And More!
Corporate Gift Cards
Are you looking for a way to acknowledge or reward your co-workers or customers? Give them Fung's Kitchen Gift Cards. Please call our friendly Fung's Kitchen team at 713-779-2288 between the hours of 11:00 AM and 9:00 PM Central Standard Time.